Oh, you're still pregnant? That's nice.
Note: The news is full of headlines that are heartbreaking at the moment so I know that pregnancy pains pale in comparison. Life is fragile, and should never be taken for granted. But I am writing these posts hoping they are helpful to other moms who are expecting, twins in particular, so what follows is for them.
Despite lots of Braxton Hicks contractions, 3 really great feast days that would have made fantastic birthdays, and my continued hope that I could report les bébés wanted to come early, we are all still hanging out together in our increasingly cramped quarters. 
At this stage of the pregnancy, my mental and physical limits are stretched beyond anything I have ever been through. For example, my biggest issue is actually just getting up from the seated position. Other problems include: walking, breathing, sleeping, carpel tunnel, swelling, heartburn, headaches, mental fogginess, emotional rollercoasters and a generalized feeling of needing to burst. I am a treat to live with.
But aside from all of that, the good news is we made it 36 weeks. I don't have outrageous swelling. And the babies are so big! One is between 6-6.5 the other is 6.5. Feeling them move makes me ache to hold them, as does seeing them on all the ultrasounds I have. I know all that stuff about darkest before the dawn awaits us in the coming weeks, and our other kids couldn't be more eager to meet their brothers.
I tend to wait until the end is near to really finish getting ready for baby, since it can be like the light at the end of the tunnel (especially in this pregnancy!). The last thing a veteran mom wants is baby gear, but I've discovered a few new things this pregnancy, and I've weighed and researched the twin must haves that have been recommended to me by other twin moms. (Also, you can probably tell by my lack of a fancy board but I am not a fashion blogger.)
One of the things I am the most excited about is companies that sell maternity shirts that can also be used as nursing shirts after the babies arrive. This is new since Andrew was born! Seraphine has a lot of shirts that have fit my huge belly and are so soft and great for nursing that I am actually excited to wear them after the babies are born and not toss them in a burn/give away pile. Here are a few that I grabbed at 20% off.
Maternity/Nursing Tops:
Some people asked me about the shirt I wore in my last post – I was wearing this navy striped top and I can't believe how comfy it is:
2) Maternity + Nursing Red Striped Top: 
I also love this one and have it packed in my hospital bag. The silver buttons on the shoulder just snap and unsnap for easy nursing. I got it in pink too when they went on sale. There are a lot more on their website, and I am eyeing their cable knit nursing shawl cover and gray roll neck sweater with easy openings on the side. I tend to live in nursing tanks and cardigans so we will see.
3) Other brands that have followed this trend are the Gap:
You might recognize this from the photo at the top. And Old Navy also has some that I have worn this pregnancy.
Ok, these are amazing. I got them on Amazon, and I mostly bought long sleeve plus this one in short. They are packed in my hospital bag along with a bunch of nursing tanks. I learned about them from Sarah Haley on IG. She is such a great mom to follow. She shares tons of tips and also has a work out DVD for the 4th trimester which I've already purchased.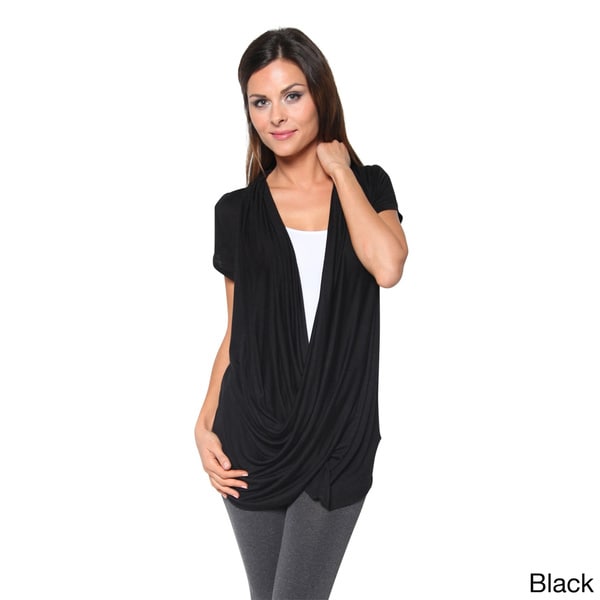 OK, let's move on to…
Baby Goods:
I took a while to commit to this because we have a pack n'play already (ok, two, but one that may not be safe exactly). But this seemed like it would be great set up in our living room on the first floor for naps (I have two bassinets in my room, and we have one crib – soon to be two – in their room). After they outgrow the bassinet, it becomes a regular pack n' play, which we needed for travel.
I really debated which nursing pillow to buy, especially because they are not cheap! But when I talked to other twin moms, they said that they had 3 of these – one for the upstairs, one for downstairs, and one in the car. So I got one on Amazon, and then when I went to a local mom of multiples sales, I found another for less then half of the price. #winning
Not Pictured: Those circle baby entertainment things for when they are closer to 6 months old. My friend Molly told me she and her husband called them 'Circles of Neglect' which I will forever call them now. So I am still on the look out for 2 Circles of Neglect. 
These just look so cute on their bassinets in my room. I seem to have lost all of our bassinet sheets from previous babies, so a necessary purchase.
4) These Barefoot Dreams blankets are a tradition in our family. We give them as baby gifts to our family members and each one of our kids gets one. They become their most cherished lovey 75% of the time. It was so fun to pick out two different ones for this pregnancy.
5) Pottery Barn Kids Muslin Swaddle Blankets –
Speaking of family gifts and blankets, my cousin just sent me these adorable swaddle blankets from PBK.
They are so soft and are making my impatience to meet these boys even stronger. But I know with every impulse to hold them and nuzzle their new cheeks, the real thing will be even sweeter.
*****
And as we celebrate October as Down Syndrome Awareness Month, I have to admit that going back and forth thinking that one of our boys has DS and then after very good ultrasounds, thinking maybe they don't has been a very weird roller coaster. Thoughts for the other twin are at the forefront of my mind for some reason. No matter what, we know these babies will bring so much joy.
Thank you for following along on this journey with me! I am keeping all of those who are hurting in the baby/fertility department so close to my heart.
xoxo Katie